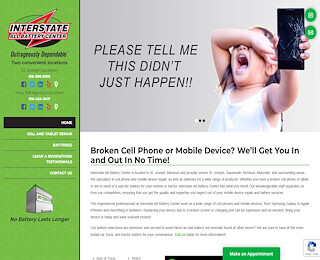 Consider the numerous benefits of immediate on-the-spot cell phone repair at Interstate Batteries and schedule an appointment at your local store. If you're dealing with a cracked or broken screen on a mobile device, it can be quite frustrating. You don't have to send your phone in through the mail in the hope that the manufacturer repairs it and sends it back before your social life is in ruins. Interstate Batteries provides on-site repairs for cracked screens, camera, water-damaged devices, non-functioning charging ports, and numerous additional services.
If your cell phone is held together with clear packing tape or the touch screen isn't responding, you may be looking at options for a repair. If your device is currently under warranty, the manufacturer may have recommended that you send the device to them for an assessment. Waiting for your device to arrive in the mail can take weeks and can leave you with no way to make or receive calls, send text messages, or access the internet. For most device owners, mail-in repairs are the least convenient way to deal with the issue.
Device owners come to Interstate Batteries for reliable, professional repairs and service; in fact, we can repair all major iOS and Android cell phones and mobile devices. Trust us with your Apple, Samsung, or other expensive brand names, and we'll return your device to you fully operational. We have the tools, the knowledge, and the experience to restore function to your touchscreen, trade out your broken screen for a new one, and quickly troubleshoot and repair any difficulty you're having with your device.
Home button malfunction is one of the most common issues we see in our repair shop. It can be a real problem trying to navigate your mobile device without the use of your home screen button. The good news is, we can fix the issue, same day when you schedule a repair in your local Interstate Batteries-store.
To find a location near you, type 'Cell Phone' into our home page search section and then use the location tools on the following page to find a shop that provides repairs. We understand our customers have a busy schedule and our repair techs work hard to provide timely repairs. Let a tech know when you call that you're interested in a same-day repair and they'll work your visit in to accommodate your calendar.
If you're thinking about sending your cell phone to the manufacturer for a repair, consider all options before you commit to having a long wait time. Our expert techs can do everything your product manufacturer can, without the long wait and can provide affordable repair services that better fit your budget.
Trust Interstate Batteries for your cell phone repair. We guarantee you'll have no regrets about your decision to go local.Our repair techs are conveniently located in an Interstate Batteries shop near you. Call or email with questions or stop by when you're in the area.